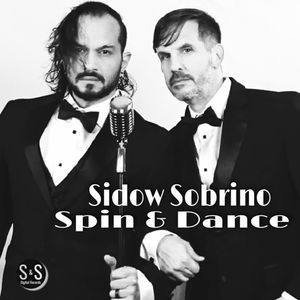 FOR IMMEDIATE RELEASE: SIDOW SOBRINO DROPS SPIN AND DANCE.
IT'S TIME TO LET OUR SOULS BE FREE, TO HEAR THE SOUND OF MUSIC AND HONOR SURVIVAL, IT'S TIME TO BE JOYFUL AGAIN, AND WHAT BETTER WAY TO DO SO THAN WITH A MELODY TO SPIN AND DANCE.
United States, Europe, Australia, India,Hong Kong,England, China, Mexico: S and S Digital Record's top artist Sidow Sobrino has released a new contagious dance song. "Spin & Dance" is now out on all streaming services worldwide. The Latin infused track is the first of 11 songs to be released from the singer's upcoming album "I'm Obsessed with You." 
"The world has been divided by so many issues, a global pandemic, hateful leaders, and racist crimes," Sidow Sobrino shared. "It's time we all come together in love and brotherhood again with music and celebrate the joy of being alive. While being in quarantine and during our first year of marriage, the relationship with my husband Richard Sidow-Sobrino faced many challenges. Like most couples we both were spending all our time together.  He was working from home. All television shows and film productions stopped. I couldn't be on set filming and didn't have privacy in my home studio for recording. I've always needed my space to create.  This was a challenge that could have been devastating for our matrimony, as it was for many people who found themselves in the same position. In prayer I asked God for direction. This is when I invited my husband to create, write songs, and produce music with me. It worked. Our love and friendship grew stronger and I was able to spend quality time with the love of my life." 
Last year, Sidow Sobrino and his hubby Richard co-wrote their first song "Our Love," filmed a music video on location in Buffalo, New York at the Niagara Falls State Park.  The release proved their success together with endless plays and views from all around the globe. They found the perfect reason to co-write a second single. This time by  bringing everyone together to dance in victory from the catastrophic results of the Covid-19 Pandemic that took away so many members of our loved families. "Spin & Dance" features lyrics with easy to follow directions for dancing. The upbeat sounds of drums that represent the life of a beating heart, and a combination of wind instruments announcing the triumphant overcoming of an influenza that could have easily ended the human race.  
Currently, as the song is being promoted, the couple has gathered some of their closest friends and created a music video together. It will be released in June 2021. Acclaimed for his numerous albums and acting participation in some of the most popular TV shows and films, Sidow Sobrino is recognized as one of the most influential icons of the 21st century. He is a member of the SAG-AFTRA Union. Sidow Sobrino is an artist and entrepreneur, who remains a pioneer. He is the only star from the Yucatan Peninsula to be recognized historically as the first person to record music and act in English for the American and European entertainment industry.  
"God came through for us" The Sidow-Sobrino men exclaimed. "It's time to shake our bodies, to groove, to sing out loud about how much we love each other and what it means to have everyone be alive. We even bought the song it's own domain Spinanddance.com and we invested in the purchase of TheWorldsNumberOneSong.com because It's time to let our souls be free, to hear the sound of the music and honor survival, it's time to be joyful again, and what better way to do so than with a melody to "Spin and Dance."